We slept well and woke naturally for the first time in ages. On emerging for breakfast we soon realised that there wasn't going to be any, not even an offer of a cup of tea or coffee! It was announced that Toni was driving Chad, one of the Canadians, in to town so we quickly grabbed our luggage and made for the van, making our excuses about wanting to be on a dive boat or find accommodation closer to town. Ian went to withdraw some money to pay Toni for the transfer and accommodation last night whereupon expatriate Yorkshireman Toni, now a Tongan citizen, took the opportunity to question me about what we were doing in town. Having ascertained that I am English he made a point of telling me that it was probably a culture shock for me being in Tonga. I politely told him that Tonga wasn't too dissimilar to some of the African countries we had recently visited, which he seemed to ignore. He questioned where we were going. I told him that we wanted to arrange some diving for our week in Tonga which was received with such irritance. It felt like he was telling me off for not asking him to arrange something for us which made me feel really uncomfortable. Naturally I objected to his outburst and thought to myself that diving is the last thing you should let someone else arrange for you, although given his earlier reaction I chose to keep my opinion to myself. It is paramount to me that I meet the divemaster before booking an excursion to get a feel for their proficiency and style. We also like to arrange things for ourselves and not entrust a complete stranger with our important decisions. When we finally exited Toni's van Ian got asked the same questions and he too received the outburst which I just didn't have the patience for. Toni mentioned to Ian that it wouldn't look right if he just left us with our bags in the street, apparently it's a cultural thing. He said it would look like he hadn't done as he should. And your point, Toni? we thought.
I feel I should explain a little about Toni. With a strong Yorkshire accent he's an old man with a penchant for kava. He evidently drinks a lot of it. His guesthouse is a dive, the grottiest thing we have seen yet, and the outisde of the whole shack is painted a repulsive lime green. I didn't take to him at all and couldn't get rid of him quick enough.
Finally rid of Toni we enjoyed a breakfast in the Friends cafe in town and realising that our introduction to Tonga had been far from favourable we decided that we mustn't be disillusioned by Tonga.
After breakfast we carried our rucksacks, mine now weighing a healthy 16 kilograms, down the waterfont of Nuka'alofa about 1 kilometre to a visitors bureau. A telephone call was made to Divers Lodge enquiring about some accommodation and information was offered about a dive boat trip which was leaving tomorrow. So we trekked further down the waterfront to the Deep Blue Diving office to speak with the divemaster, also husband to the lady who runs the Divers Lodge, at her suggestion. She also said that if we went to the office her husband could drive us to the lodge, which seemed like a very good idea.
Following a brief discussion and introduction to the dive sites we soon learned that 'cavern diving' looked very exciting and the boat trip would be excellent value for money as we could potentially participate in four dives each day. We agreed to the excursion to 'Eua and were then taken to the lodge 1.5 kilometres out of town. By now Chad had joined us and he too arranged to go on the boat trip but would remain at Toni's Guest House for another night. The two day boat trip will take us to neighbouring island 'Eua to which the crossing will take 3 hours 30 minutes. For our TOD 380 we get to do as many dives as is safe and full board accommodation. In addition to that, although we keep our bags at the Divers Lodge tomorrow night, we won't be charged for the convenience. Incidentally the room rate is TOD 68, equivalent to USD 34, which is still good value for money, and is situated on Hala Pili which is within walking distance to most places we want to go to.
Settled in to the lodge we were driven in to town where we wandered around to look at the King's Palace. On the way we met the two Germans who we had met at the airport yesterday. They had also stayed at Toni's Guest House last night having arrived from Auckland and they had stories to share with us. They had many cockroaches in their bedroom and a giant spider eating a giant cockroach in the shared toilet! And we thought we had a bum deal! Regardless of their experiences they decided to stay at the guesthouse.
The King's Palace is much like a summerhouse facing the ocean. It's not very elaborate at all and isn't very big. It's a nice house but not fit for a King. The King has a few guards who occasionally make an appearance near a gate and a statue of himself in the garden. The King is said to be in New Zealand at the moment as the 84 year old royal has a dodgy heart and requires medical attention abroad. Although the flag was raised today which, in England, normally indicates that royalty is in residence.
Lunch was in a restaurant beneath a catholic church and was recommended to us by Herbert, our divemaster. It was indeed pretty good despite its location.
After lunch we wandered a bit more and spent some time in the supermarket buying some supplies from which we could concoct some meals. Our German hosts at the lodge, Herbert and Sofia, have provided us with a kitchen for guest use so we can self cater at our leisure. The verandah to the lodge is huge and has wicker garden furniture and patio doors. Inside we have the use of a pool table. Our room, which we were able to choose as there are no other guests in the lodge, also has access to the verandah and is of a reasonable size with en suite bathroom. It's all very pleasant.
Since walking around I have observed that the most notable thing in Tonga so far is the population of dogs, mostly strays that lazily amble across the roads eating whatever they can find.
Tonga is the first country in which we don't have a mobile network connection! Now that is a culture shock!
I cooked us a pasta tea, well barely a portion between us, and we sat down with a fresh pineapple, a bag of chocolate chip cookies and a can of ready to drink 'Regal London Dry Gin and Tonic' for supper.
On entering the bathroom to have a shower I noticed a cockroach, quite large in size, perched on the washbasin, which wasn't so pleasant. I asked Ian to follow me and introduced him to the ugly creature. Ian then proceeded to watch guard the cockroach while I quickly showered, fearful of the cockroach joining me in the shower as we had made him move at quite a pace when we forced him from the washbasin. Not wishing to hold Ian up any longer I had a quick shower and released him from his watch guard and proceeded to have a dry shave whilst balancing over the washbasin barely a foot from where the cockroach had come to rest. And I thought there would be no such likely situation as I would enjoy a 'Gaby's Leg Moustache'.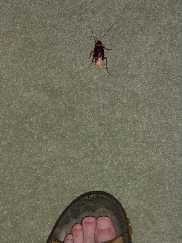 We're away at 06:30 tomorrow so I've already packed my bag for our dive trip. Whilst I was packing, and for some time after, glorious singing could be heard from outside. The town of Nuka'alofa was alive with song. I think the Tongans must be celebrating the rain!
Ian tells me we are now 178 degrees west of London so we are over halfway around the world now!