Some bizarre dreams punctuated my night although I have no recollection of them now as I write. However, I slept pretty well and was sad to be woken at 09:45, the latest yet in Bali! Breakfast was only served until 10:00 so we made a quick march to the restaurant before waking up.
At noon we made it out of the complex and wandered down the main street, around an exhibition shop which displayed all kinds of special Balinese craft work and furniturem and visited the beach at Sanur. It was very hot and humid and so I took a cold beer with my lunch across the road from our accommodation.
We spent the afternoon in the complex, Ian sleeping, I reading. This was one of the very few relaxing days we have had since leaving England, nearly five months ago. While I was sat outside reading my book a huge black butterfly flew over me. Seconds later a grasshopper came from nowhere and landed on my big toe. I was surprised and flicked it off before I ascertained what it was that had landed on me and it stuck to the wall beside me, posing for a photograph. It was pretty big!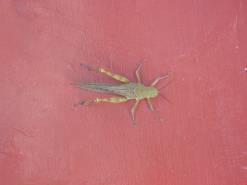 By 18:00 we made it back to the swimming pool for some splashing around and after inviting Oscar and Anna to join us for dinner we returned to the room, finding a stumpy little frog on the way. Dinner was at a Japanese restaurant that had a fantastic water feature at the entrance to the restaurant which looked like rice paddy field terraces. Ian dived into a Japanese dinner box while I adhered to a bowl of thick noodles, as having had a craving for soup all afternoon that was the closest match I could find on the menu, and indeed they were exceptionally thick noodles, too thick!
We retired early, conscience of an early rise tomorrow to pack and shower and have breakfast. All the hardships of travelling...