I was quite literally dragged out of bed and walked to the shower this morning. I think I'm sleeping for too long in Tokyo and feel lethargic as a result.
We took the subway to Ochanomizu station today and following a Teriyaki burger we walked to Akihabara and perused the electronic arcades. Ian had been very excited about visiting this area and his smile didn't leave his face until several hours later when we had fiddled with plenty of electronic toys. He settled for buying some more digital tapes although we were both tempted by more.
Back at Ikebukuro we ventured into the Seibu department store and Parco but backed out of both pretty quickly once we discovered they were mostly women's clothes shops. We were delighted to find that our Japanese diving companion had indeed sent us the video from the Maldivian dive trip, which arrived at the Dai Ichi Inn today. We made use of our free internet time before dinner which, yet again, proved to be a struggle to find until we stumbled across a pizza company in which we received a friendly welcome not dissimilar to yesterday's.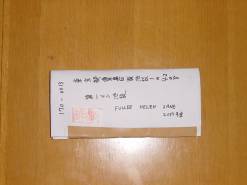 I was settled on an early night...